Come enjoy the Holiday Festivities aboard one of the Dreamer Vessels.
Cruise the calm waters of Ventura Harbor with family, friends or coworkers as
You enjoy holiday music and beautifully decorated Boats and Homes;
Its like Candy Cane Lane On The Water!

Enjoy a hot cocoa, a drink from the bar, or try our specialty
"Reindeer Milk"
Let this be your year to enjoy the Holiday lights, Music and Cheer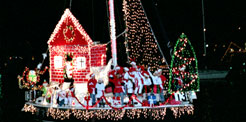 1.25 Hour Private Holiday Charter Prices:
# Of Passengers Price Vessel
To-39 Passengers $ 620 Dreamer
To 49 Passengers $ 745 Dreamers Dream
1.25 Hour Private Holiday Charter Times:
5:45-7:00 PM
or
7:30-8:45 PM
Bar Prices:
$1.00/$1.05 Cash/Credit Soda & Water
$5.00/$5.25 Cash/Credit Beer & Wine
$6.00/$6.30 Cash/Credit Mixed Drinks
Food Programs:
Dinner programs are available on "Dreamers Dream" and are available on
a 7:30-9:00 Cruise program only. $895 + Food + Bar + Sv. Chg.
Food Programs are not available on the Parade of Lights nights.